The Top 3 IT Causes for Business Downtime In Dubai
Downtime is very expensive, its biggest consequences can be a decrease in employee's productivity, missed business opportunities and data loss. Worst of all, the damage can go beyond material and financial aspects and can affect a company's reputation.
The longer the downtime, the more expensive it will be, and it is difficult to assess and calculate the exact cost of these disruptions as they are both quantitative and qualitative. But every company knows how harmful they can be and how difficult it is to contain these damages without the proper and adequate crisis management and prevention strategies.
During downtime, action must be taken quickly to contain and limit the impact on users and customers.
To explore the most recurring causes of downtime, GEEKS has looked at a sample of a 100 SMEs in Dubai who have used us for IT Support and rounded up the main reasons for downtime caused by IT issues. Here are some the interesting insights we found: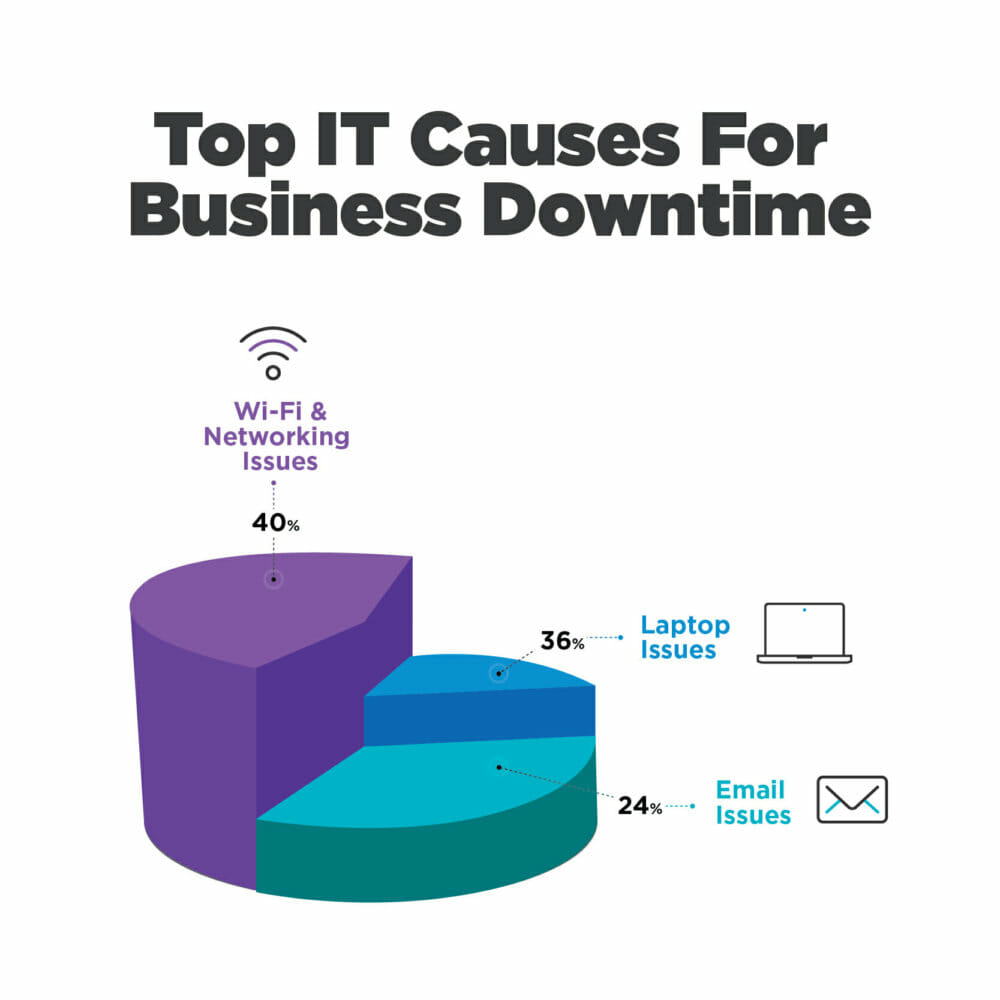 Among all the IT issues that Dubai businesses face daily, Wi-Fi and Networking issues are the leading causes of business disruption, followed closely by laptop malfunctions and malware. Surprisingly, our initial predicted front-runner – Email complications – came in as the third highest problem encountered by local businesses.
All the above issues can be fixed as soon as they happen (reactive support), but how about identifying and preventing them before they even occur (preventive support)?
GEEKS recommends a shift to Automated IT Support, where all your IT assets are connected and monitored 24/7 by an experienced team of engineers & technicians. As a result, your business will experience a 100% continuity and your operations will run uninterrupted.  Indeed, downtime is one of the reasons why Automated IT Support is increasing in popularity in the region.
If you haven't gone for Automated IT Support yet, these are the measures GEEKS' IT Experts would take to fix the problems causing your business downtime.
 Wi-Fi Support: Whether its user-density management, encryption, complexity, connection security, cloud managed Wi-Fi or any form of Wi-Fi support, we can help! And for these extremely frustrating connectivity issues, our experts will position and configure your router and access points in the most optimal locations to provide you with a strong dependable connection and cover all areas of your offices uniformly.
Laptop Issues – Protection & Prevention: With the growing number of malware attacks and hard drive failures globally, we can get your laptops optimized, constantly updated and protected to prevent any viruses and unexpected shutdowns from occurring in the future.
Email Issues – Migrate to a Better Email Environment: Being the leading disruption that adversely impacts client relationships, we can troubleshoot and diagnose your current business email set-up and safely migrate your business to an email server better-suited to your business needs.
This customer-centric approach at every step of the process allows GEEKS to deliver the best quality of support and protection at competitive costs and thus lets clients focus on what is important: their company's growth.
We will be soon sharing more insights on Business Continuity and more of our findings on the costs and causes of downtime experienced by SMEs in Dubai, so stay tuned!
In the meantime should you wish to learn more visit our website, call us directly on 8007475 or drop us a line below and our team will reach out shortly.