5 Reasons To Move Your Business To The Cloud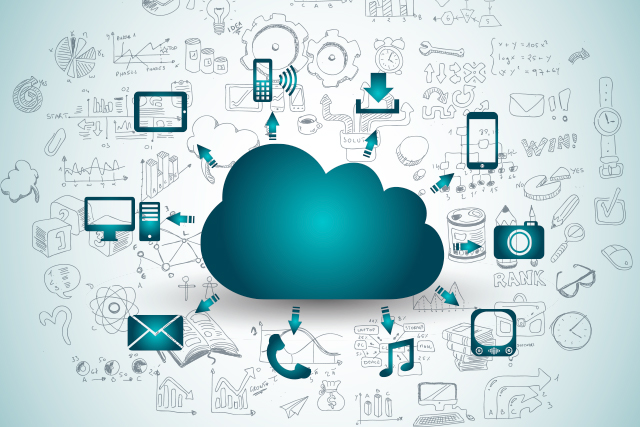 "Thanks to the cloud all my devices are in sync. it's only my brain that doesn't know what's going on"
Cloud is the 21st century's newest, most popular (and to a lot of people, most ambiguous) form of data storage. Companies across all sectors and sizes are increasingly using Cloud Computing technologies, as it has become an invaluable and powerful business tool, not just another trend.
But what does it mean? (in simple terms please!)
Simply put, Cloud Computing is a practical and safe way of storing and accessing data via the internet rather than through a physical hard drive.
So what does it exactly do?
Cloud Computing solutions allow companies to enjoy a multitude of IT services without having to build and maintain a big in-house IT infrastructure and thus benefit from significant savings. With nothing but an internet connection, it allows you to access any software, files and data you need, anytime, anywhere and through any computing device be it a PC, tablet or smartphone.
You can choose one of the services offered by the cloud according to your company's needs:
Platform as a Service (PaaS) for application platforms, databases, etc.
Infrastructure as a Service (IaaS) for storage, virtualization, networking, etc.
Software as a Service (SaaS) for CRM, Security, Business Management, etc.
Are there many types of Cloud?
You can choose to host your resources on the right cloud model according to your budget, availability and reliability preferences. The basic types are:
Public Clouds: when the cloud's platform is a third-party provider
Private Clouds: when you create your own cloud
Hybrid Clouds: a mix of both private and public clouds
Why move to the cloud?
No matter your company's size, industry, and revenue, cloud computing is an indispensable tool for your business.
Here is a shortlist of what our business clients liked most about moving to the cloud:
Reduced Costs
With the cloud, you can leverage the benefits of a large IT infrastructure without the costs of acquiring and maintaining hardware, being able to use IT services without having to rely on software, licensing fees or hiring technicians to manage and repair them, therefore costs are drastically reduced. Companies can choose the package and features according to their budgets, the number of users and needs.
Scalability
You can change your cloud storage according to your situation as many times as you need. So, no matter if you scale it up or down, you will be paying only for the service you need at that certain point in time.
Flexible and real-time view:
You and your employees can have more flexible work hours as you can access your data and software remotely from home, on holiday or while commuting. Data will also be available in real-time so you can continue your work seamlessly at any given time.
Efficient collaboration
Project management and collaboration between employees across teams or locations are easier as documents and communication can be easily shared on the cloud.
Security and compliance Your Data is secured and protected and monitored 24 /7 by your cloud provider. Furthermore, clouds offer you the possibility to encrypt your data thus adding another security layer.
Furthermore, your data is backed up in a safe location, and protected against any type of threat whether it is a natural disaster, power outage, etc.
The cloud has a lot more to offer, it can be customized to every company's need and linked to a wide range of useful software for your business whether it is emails, project management software, sales platforms, document management software etc.
Keep in mind that before moving to the cloud you might want to speak to experts who can advise you on the best solution and help you safely and properly migrate your data and resources!
Understanding and addressing all the characteristics of Cloud Computing would need a lot more than a short article. So, do not hesitate to drop us a line here or call us on 8007475! We always stand ready to answer your questions and give any advice you might need.